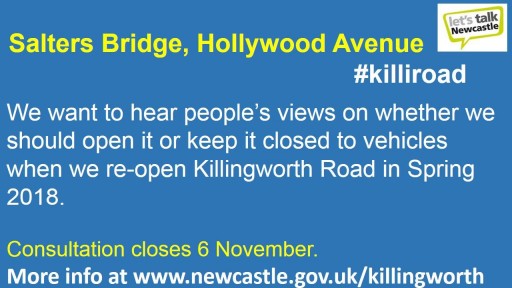 The City Council has made a commitment to consider the views of local residents and other stakeholders in planning for the immediate future use of Salters Bridge at the bottom of Hollywood Avenue.
The bridge is currently closed to motor vehicles, but open to people on foot and on bikes, as part of a package of measures to effectively manage the highway network during the closure of Killingworth Road. You can find out more about Killingworth Road here: Killingworth Road.
The following survey is designed to explore options for the future of Salters Bridge and the impact of those options on residents and other stakeholders.

If you require information about this consultation in a different format, such as large print, or have any questions about it, please contact Ali Lamb at:
alison.lamb@newcastle.gov.uk
. We will use people's responses to help make decisions about the future of Salter's Bridge, and will publish the outcome of the consultation on Let's talk Newcastle Online, and on our website:
www.newcastle.gov.uk
.