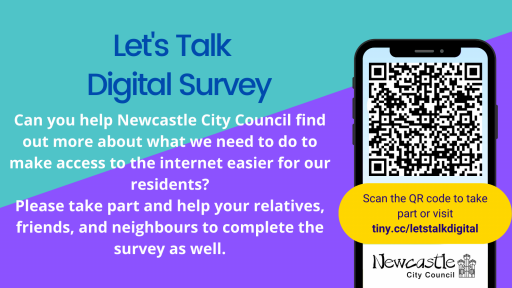 Newcastle City Council have launched a digital inclusion survey which will be live until the end of August 2021. We want to get information from as many Newcastle residents as possible to help inform our ongoing programme to reduce 'digital poverty', where people's unequal access to online serivces means they suffer inequalities.
We know that not everyone can easily get online and we are working with partners such as Connected Voice and others across the city to support everyone to take part.
We encourage everyone reading this to take part by clicking on this link to give us your views: Let's talk Digital and letting your friends and family know about the survey as well. The 19 questions take about 10 minutes to answer, and we are not gathering any personal data, only the post code area. It can be easily completed on a laptop, tablet or smartphone.
If you have questions about this, or need it in a different format such as printed or large print, please contact us at: getonline@newcastle.gov.uk
We will use the findings to help tackle digital poverty in Newcastle, and will make them available around September this year. Thank you very much for giving us your views.